Are Inflatable Hot Tubs Worth It?
The snow is falling with temperatures below freezing, and you want some of that cozy winter feeling without freezing your butt off, what can you do?
You can get an inflatable hot tub! Inflatable hot tubs are incredibly cozy and convenient.
Sitting in a hot tub in the winter when it's snowing outside with a drink in my hand is one of my top 3 things to do, especially when we're talking about being cozy.
Today we are taking a look at the best options on the market if you want an inflatable hot tub for yourself.
There are a couple to choose from with different features, and I have gone through them all to see how they differ, and which the best one is.
See Also: Best Flameless Candles (All Types Reviewed)
I have also answered the most frequent questions I have found online about hot tubs.
How warm do they get, are they safe to use, and will they do the job?
These are some of the questions I have answered, and you can find the answers by scrolling down past the hot tub reviews.
Note that most inflatable hot tubs are rated for down to 40 degrees.
If you want to use the tub when it's below freezing, I recommend insulating the motor and using tarps all around the tub to prevent it from freezing.
But to be safe, I wouldn't recommend using it below 32 degrees. You don't want the water, filters, or electronics to freeze.
Note: Scroll left/right on small screens to view all products in the table.
The 4 person Coleman SaluSpa is, in my opinion, the best inflatable hot tub overall.
It's a square type hot tub with air jets, a digitally controlled pump with a touch control panel, and includes a reinforced cover.
The AirJet System with 114 air jets create bubbles, and once you get comfortable, it's hard to believe it's an inflatable hot tub.
I like the simplicity, the features, and the look of the SaluSpa.
Coleman includes a reinforced cover with safety lock clips and a built-in air chamber, which is great.
It will for sure extend the lifetime of the hot tub since you will be able to protect it from the elements while it's heating up and if you want to leave it inflated for a couple of extra days.
See Also: Top 5 Decorative Outdoor Hanging Solar Power Lanterns
There is a round version available (click to view on Amazon) as well, but I recommend the square model if you plan on being more than two people most of the time.
Being a square makes it easier for several adults to fit in the hot tub comfortably.
Included with the Coleman SaluSpa are a pool liner, pool cover, spa pump, chemical floater, two filter cartridges, an air pad protector, a repair kit, and the AirJet system.
A couple of things make this the best inflatable hot tub overall. The fact that it's a square lets more people use it at the same time comfortably.
Coleman's AirJet System is a proven winner with its intuitive controls and ease of use.
It's also very sturdy for being an inflatable product, and with great durability and a reinforced cover, it will be protected if you decide to keep it outdoors.
What I Like
AirJet system with 114 jets
Digitally controlled pump
Automatic inflation
Square design lets more people enjoy the tub comfortably
Temperatures up to 104 degrees Fahrenheit
Includes pool liner, cover, chemical floater, two filters, air pad protector, repair kit
A very popular choice is the Intex PureSpa model 28409E.
It's popular for a couple of reasons, but a big one is that it's a reliable choice from a well-known company.
The Pure Spa is a big hot tub that can fit up to six people.
Intex has integrated 170 high-powered bubble jets that surround the whole tub, making it a comfortable experience for everybody.
These bubbles are fun for the entire family and turn it into something more than just a warm tub of water.
If you're looking for an inflatable hot tub for five people or more, the Pure Spa 28409E is the one to go for.
With a capacity of 290 gallons, it's big enough for a large family.
Its jets together with its hard water treatment system will make it a comfortable tub for everyone.
See Also: Best Portable Propane Fire Pits For RV/Camping/Decks
Consider the size of this tub compared to others before deciding which one to buy.
The Intex can hold many more gallons and have more jets than the other tubs in this review.
This makes it a much larger tub that not only weighs more but takes up more space.
Two filters that keep the water clean are easily replaced.
I recommend checking the filters after each use and replacing or washing them as needed.
There is nothing worse than sitting down in a hot tub with visibly dirty water.
For more tips about keeping the tub clean, check out the FAQ down below.
The tub comes with two headrests, a thermal ground cloth, a floating pool chlorine dispenser, an inflation hose, and two filter cartridges.
Built-in handles will let you easily move the tub to where it needs to be before you start filling it with water.
I wish all the companies would do this, as it makes it much easier to move in/out and around.
Controlling the tub and its settings is easy with the digital control panel.
This is where you can turn on and off the bubbles, heater, and control the temperature of the water.
Note that the Intex Pure Spa cannot be shipped to California due to appliance efficiency regulations.
Intex also advertises that you should not use the hot tub in temperatures under 39 degrees.
What I Like
Massive with space for up to six people
Bubbles from 170 jets
Built-in handles
Includes two headrests
The digital control panel makes it easy to control settings
Insulated cover and lock
Hard water treatment system included
The MSPA Silver Cloud Inflatable Hot Tub is another fantastic choice for 6 people or more.
It's a large circular inflatable hot tub that measures 80 inches (6 feet 8 inches) in diameter and 28 inches (2 feet 4 inches) tall.
It can hold up to 240 gallons of water.
The hot tub is made with a 6 layered PVC material. There's a UV and frost resistant outside layer and a silver metallic inner layer.
The built-in heater and air pump sit in a small housing on the side of the hot tub.
It can reach water temperatures of up to 102°F and the self inflator has a built in pressure gauge that will keep the hot tub from over inflating.
See Also: Best High-Quality Bunjo Bungee Chairs That Will Last
There is a high quality cover included that uses a zipper to secure over the hot tub.
You will also get a heat mat you can set the hot tub on to protect it and a remote control that controls the temperature and the air jets.
There are 118 dynamic air jets that help circulate and increase the buoyancy of the water to take the pressure off of your joints which has therapeutic effects.
The MSPA Aurora Inflatable Relaxation and Hydrotherapy Spa is large and perfect for friends and families.
It has a lot of air jets and is self-inflating to boot.
What I Like
Bubbles from 118 jets
Remote control
6 layer laminated PVC
Cover included
Can hold up to 6 people
The Bestway SaluSpa Helsinki Inflatable Hot Tub is a very unique looking outdoor hot tub with sides made to look like real wood.
It fits up to seven people at once comfortably and can be heated up to 104℉.
The outer diameter is 71 inches and the inner is 67 inches.
The sides are 26 inches tall. When filled to the capacity, 80%, it will hold 297 gallons of water.
Included with the inflatable hot tub is a cover that buckles on, a ground mat, 2 filter cartridges, a chemical dispenser, and an inflation pump/heater/filtration system with a digital display on the top you can use to control the temperature and air jets.
There is also a hand pump and patch kit.
See Also: Best Outdoor Hanging Swing/Egg Chair with Stand
There are 81 Helsikin air jets and a timer you can use to set the temperature up to 72 hours beforehand.
The  Bestway SaluSpa Air Jet Inflatable Hot Tub has a great unique look with the wood panel print.
It doesn't look like an inflatable hot tub and it doesn't act like one either with all the great features like the air jets, chemical dispenser, and the heat timer.
What I Like
Chemical dispenser included
Filters included
Buckle on cover
Wood paneling print
Diginal display you can reach from tub
The last tub we're sharing and recommending today is made by Modern-Depo. This model is made to fit 4 adults + 2 children.
The outer diameter is 73 inches with a 57 inch inner diameter.
The walls are 27 inches tall and when filled the inflatable hot tub will hold 245 gallons of water.
Just like the other tubs, it has built-in air jets to create bubbles and improve coziness. There are 13 jets in total.
The design of the Modern-Depo is square, navy blue on the outside and blue on the inside.
The material used is wear-resistant, and its frame is made with durable PVC.
Even though the materials used are hard and rugged, it feels soft to the touch and not hard on your skin.
See Also: 10 of the Best Bathrobes and Robes for Women
Its removable filter is easily swapped out as needed when the water gets dirty. It has an automatic 4-hour filtration that will keep the water clean.
A digital control panel lets you control everything you need.
You can turn up and down the temperature, turn on and off the bubbles, and turn on and off the heating function.
There is a cover and ground mat included with purchase.
What I Like
Made with high-quality PVC
Auto filter
The digital control panel makes it easy to control settings
Frequently Asked Questions About Inflatable Hot Tubs
Are inflatable hot tubs safe?
Sitting in an inflatable isn't any more or less safe than sitting in a hard hot tub.
Like anytime you're dealing with lots of water, it's not recommended to leave kids around it without supervision.
In terms of water temperature safety, since they're regulated only to reach 104℉ there is no risk of a working unit to cause any burns.
To be safe, I recommend using a water thermometer before touching the water, like this floating thermometer (click to view on Amazon) that can show temperatures up to 120℉.
Can you use inflatable hot tubs in freezing temperatures?
Most inflatable hot tubs have warnings and recommendations telling you not to use the hot tub outdoors if it's under 40°F or 4°C.
Therefore it's not recommended to use it when it's freezing outside.
There are ways to insulate an inflatable hot tub further, and one easy way is to put the tub on a mat to get it off the cold ground.
A tarp might be your first thought, but I would recommend something slightly thicker, like these puzzle exercise mats (click to view on Amazon).
Can you sit on the edge of an inflatable hot tub?
The tubs we have looked at today and compared are sturdier than most would believe.
You can comfortably sit on the edge of the tub without it bending or collapsing.
Think about how much pressure is put on it from being filled with water, and it has to be strong not to break, so sitting on them won't hurt them in any way.
That said, I wouldn't recommend a ton of people sitting on the edges in a way to create more space.
Only sit on the side if absolutely necessary.
How warm does the water get in an inflatable hot tub?
Hot tubs are regulated to allow the water temperature to reach 104°F/40°C.
How long does it take for an inflatable hot tub to heat the water?
The most significant factor when it comes to how fast your inflatable hot tub will reach 104°F/40°C is how cold, or warm the water you fill it with is.
Most hot tubs heat 2-3°F every hour, so based on this and how cold the water is, you can calculate how long it's going to take.
You should expect it to take 12-24 hours.
Of course, it also depends on the outside temperature and if whether the tub is covered or not.
Will my hot tub heat up faster with the jets on?
No, the jets will not increase the temperature faster.
t's also not recommended to leave the jets on when the tub is not in use or heating up.
Can I set up an inflatable hot tub on uneven ground?
It's not recommended to use an inflatable hot tub on uneven ground.
The biggest reason is that it would put more stress on certain areas of the tub that it's not designed to handle.
Damage on one side of the tub could render it unusable.
The second reason it's not recommended is that it's extremely uncomfortable to sit in and get in and out of.
Place your tub on a solid, sturdy, and even surface, and the overall experience will be much better.
How much power does an inflatable hot tub use?
A hot tub uses about 1000-1500 watts to heat up. That is 1Kw-1.5Kw.
If you only use it a couple of days every month, you likely won't see a huge increase in your power bill.
How do I keep the water clean?
If your inflatable hot tub doesn't include a chlorine dispenser, I recommend purchasing one like the Swimline HydroTools dispenser (click to view on Amazon).
Most tubs come with filters that will do their best to clean the water and take care of the dirt.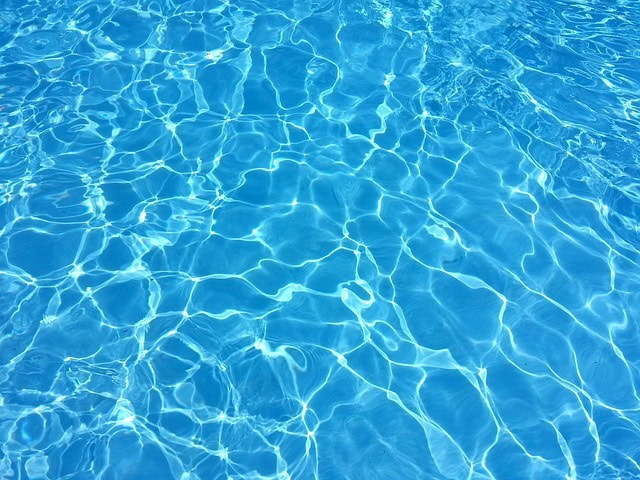 How to clean an inflatable hot tub?
Cleaning an inflatable hot tub is easy as long as you do it often enough. I recommend doing it monthly.
To clean it, you should empty it of water and let it dry. Then you should use a mild liquid soap, water, and a damp sponge.
Carefully wipe it down and get rid of any dirt that has gotten stuck on the floor or walls.
Then spray it with a hose and rinse until all soap bubbles are gone.
Are inflatable hot tubs just as good as solid hot tubs?
The answer to this question will depend on who you're asking.
There are, however, lots of pros to buying an inflatable tub instead of a solid.
The first reason is, of course, portability. You can move an inflatable hot tub on your own, but good luck moving a solid tub without lots of help.
Pack down the tub and put it in storage when not in use for an extended time, but how would you do that with a solid one?
Solid tubs take up lots of space as long as you own them.
Inflatable tubs are also low maintenance and easier to set up.
Filtration systems keep the tubs and the water clean, and the filters are straightforward to change.
Last but not least, solid hot tubs are much more expensive.
Have any more questions about inflatable hot tubs? Leave a comment below.