The Importance Of A Fire Pit When Camping
Camping without fire is like a Christmas without a Christmas tree.
Too dramatic?
Having a fire at night when I am camping is something I love, and for me, it's a big part of the camping experience.
Related Product: Make your next campfire a little more memorable with Magical Flames Cosmic Fire Color Packets (click to view on Amazon)
An easy way to have a safe, legal fire when you're outdoors in the wild, is by using a portable wood burning fire pit.
The best portable fire pits are lightweight, easy to transport, can be used as grills, and some even fold down for storage, making them ideal for RV, car, and van campers.
Large portable fire pits might not be very lightweight, but still compact enough to take camping or put in an RV.
A great thing with safe, portable fire pits is that you can place one on a table if you would like.
This makes them multifunctional and easier to use as grills.
This might be harder with large portable fire pits, but I'll show you a couple of small ones too that can be placed on tables easier and safer.
If you're interested in less portable propane fire pits for patios, backyards, and decks, check out my post on the best ones.
Of course, you can make a DIY (do-it-yourself) fire pit as well, which is what humans have been doing for thousands of years.
But having a portable fire pit ready to go in the back of your truck or RV at all times makes it so much easier to set up.
Now, let's review the best wood burning fire pits on the market that are portable enough to take camping.
Some can be used as grills, and some are just for fires.
Note: Scroll left/right on small screens to view all products in the table.
Best Portable Fire Pits Reviews
One of the most portable fire pits on the market also doubles as a grill.
UCO makes the flatpack that folds to only 1.5 inches thick, which means that you can fit it in a backpack.
This might be for more hardcore hikers and backpackers, but it would also be a great fire pit for travelers with limited space.
If you're traveling in an RV, you know what it's like to travel with limited space.
A fire pit like this would be perfect since it won't take up much space at all.
When the fire pit/grill is set up, the unit measures 13.5 by 10 by 11 inches. The grilling area is 10 by 13 inches.
Note that there are two sizes, depending on how big of a fire or grill area you want. Both sizes come with a case for storage.
Take the fire inside with an electric fireplace heater, check out my post on the best ones available!
The UCO Flatpack design lifts the fire off the ground.
Holes along the side of the stainless steel will make sure air will circulate and let the fire breathe.
If you see a fire pit without holes, the fire won't start and stay lit as easy since a good fire needs air.
It takes about 30 seconds to set up the grill, and you don't need to put the grill grate on in case you just want a cozy fire.
You could also use the UCO Flatpack on a table if you would like.
The durable stainless steel used is highly rust- and corrosion-resistant, although you should always take care of a fire pit and dry it off after use to extend its life.
I like the extreme portability of the UCO Flatpack.
If you're a van dweller, car camper, or travel in a small RV, this will not take up much space while functioning as both a fire pit and a grill.
With two sizes to choose from, you even have a choice to make depending on how big of a fire pit you want.
Its collapsible design, together with these features is a combination hard to beat.
What I Like
Collapsible/folding, stores in the included case
Two sizes
Functions as both a grill and fire pit
30-second setup
Keeps the fire off the ground
Rust- and corrosion-resistant stainless steel
Next up is the Rootless, which has a unique design that makes you stop and wonder for a second: Does that work?
The answer to that question is – Yes, and it works really well.
With a collapsible design, the Rootless becomes extremely portable and easy to pack down.
A carrying bag is included with the purchase so you can stow this fire pit away in small storage areas.
Camping outdoors in the cold? How about a heated jacket? Check out my post on the best ones.
So how does it work? Well, the sturdy but lightweight legs are folded out from the folding base, and then connected to the anti-heat mesh with steel clips.
The legs have leg caps to prevent damaging the surface the fire pit is put on.
When set up, its low center of gravity makes it a very stable fire pit capable of holding lots of heavy wood.
So what about ashes or debris, does it just fall through the mesh to the ground?
No, nothing big will fall to the ground, but you should always place it on a safe surface, and not near anything that can catch fire.
It's a great "leave no trace"-option, since you can set it up in a minute, find some wood and have a nice fire, then pack it down and move on without leaving anything behind.
Very small, fine pieces might fall through to the ground, but nothing big to worry about.
There are two sizes to choose from, medium and large, and the large one measures 22 by 22 by 12.6 inches when assembled.
When folded, it measures 25.6 by 2.5 by 2.5 inches. The medium size measures 16.5 by 16.5 by 12.6 inches when assembled, and 25.6 by 2.5 by 2.5 when folded.
The main selling point of the Rootless fire pit is its portability.
It's an old idea in a new package, and it has been proven to work perfectly as a fire pit.
What I Like
Collapsible/folding, stores in the included case
Two sizes
Keeps the fire off the ground
Eco-friendly stainless steel and anti-heat mesh
A popular wood burning fire pit I have seen when I have been camping in campgrounds is this kind, the UFO-looking fire pit that folds down and is stored in a bag when not in use.
A company called Fire Sense makes this specific one.
It's a 29-inch pit that I really like the design of. There is also a 22-inch model if you want a smaller size.
What I am missing with this fire pit is a couple of holes on the bottom to let water and moisture out and let the fire breathe more.
It will still function as a fire pit, but you would want to make sure it gets dry after each use, to not have to deal with rust.
See Also: The Best Tabletop Indoor Fire Pit You Can Roast Smores Over
The legs fold in and store underneath the fire pit so it won't take up a lot of space in storage.
This is a perfect choice for an RVer since it can sit in the back of the truck or a storage compartment without risking getting hurt.
You can use it as either a grill or a fire pit. Included with the purchase are a fuel grate, a cooking grate, a spark screen, and a screen lift tool.
Note that the pit is shallow, so if you plan on cooking a lot, you might want a deeper pit.
What I Like
Folds, stores in the included bag
Two sizes
Keeps the fire off the ground
Fuel grate, cooking grate, spark screen, and screen lift tool included
One of my favorite fire pits in this review is this one by Landmann.
Its model number is 25995, and this specific design is called Magnafire.
While it's not as portable as the other fire pits, since it doesn't fold down, it's still lightweight and easy to transport.
This makes it an excellent choice for RVers or weekend-campers. It's also a great choice for a backyard or patio fire pit.
Note that it should only be used on stone, brick, or concrete backyards or patios.
The round pit has a 32 inch diameter and is 25 inches in total height.
With a wood-burning fire pit, the depth and diameter matters a lot since it will affect how much firewood you would be able to put in it at once.
See Also: 10 Unique Cozy Mugs That Will Warm & Brighten All Year Long
There's a net lit and net barrier that goes around the entire fire bowl. The net stops sparks and other things from popping out of the fire pit.
The Landmann fire pit is easy to assemble and offers a sturdy steel construction.
Included with the fire pit is a 24 inch steel poker for safely positioning wood in the fire pit.
It's the perfect fire pit to bring out at the campground, remember to bring some wood to the campground.
I love the design of this fire pit and the different options you have. Being able to grill my food on this is just another plus.
What I Like
No setup
Keeps the fire off the ground
Sturdy legs, steel construction
Poker included
Mesh barrier and lid
The Fireside Outdoor pop-up fire pit is a strong collapsable fire pit that can be used almost anywhere that's safe for a fire.
This version even comes with a heat shield that is placed under the fire tray.
It stops ashes from falling onto the ground making it perfect for patios, grass, and "leave no trace" camping.
The design is simple but strong, and it can be set up in just 60 seconds. The aluminum legs fold into a compact size, much like a camping chair.
There are 4 aluminum sides that are 3.5 inches tall. The wood is placed on a strong stainless steel mesh that is placed over the legs.
The heat shield goes under the stainless steel mesh to catch any ashes or embers that might want to fall through.
Because the fire is well off the ground and in a large pan it is relatively smokeless and complies with fire pan regulations on forest service or BLM land.
See Also: Best Mexican Yoga Blankets That Are Soft & Cozy
The engineering on this portable fire pit is fantastic.
The center of the pan can hold up to 125lbs of weight which means no amount of firewood is going to be too much for this portable fire pit.
The pan is 24 by 24 inches wide and stands 15 inches tall.
The Fireside Outdoor Pop-Up Fire Pit only weighs 8 lbs and it comes with a nice storage bag.
When folded up it's about half the size of a regular folding camping chair.
It can be used on patios, wood decks, over grass, and pretty much anywhere that's open enough to burn a fire safely.
The tall sides stop embers from falling out but you can still see and enjoy the fire.
What I Like
Collapsible/folding, stores in the included case
60-second setup
Keeps the fire off the ground
Rust- and corrosion-resistant stainless steel
Fire shield for catching ash and sparks
So far, we have seen fire pits designed the same way humans have been making a fire for thousands of years.
We have also seen the modern style that functions as grills and has stylish cutouts on the sides for design and functional reasons.
How about a modern take on the fire pit, one you probably haven't seen before?
Staying warm when camping is easy with the right clothing. Have you ever seen heated socks? Check out my post on the best socks available.
The Solo Stove is a bonfire style wood burning, smokeless fire pit that has a unique style.
To set it up, all it takes is making sure you've found a level surface, put the stand down, then place the bonfire inside of it.
You're then ready to start your fire with pellets or twigs. You can use logs as well since it's a big fire pit.
It's a big one, measuring 19.5 inches and is made to sit on any ground. Put it on your wood patio, deck, backyard, or grass.
There is no need to worry about heat bubbling your painted deck, or embers flying off to start a fire.
Primal Outdoors has made a great review of this bonfire.
Solo Stove has a double-wall design that maximizes airflow and produces less smoke with more flame.
Holes all around the bottom will allow oxygen to come in, get heated between the double walls, and rise.
This heat won't radiate around the whole pit, so all heat will be felt from above.
For this reason, it might not be the best fire to use as a heat source if you're camping in the winter.
All of this air around the fire will help it burn wood completely, so you don't have to deal with half-burned logs at the end of the evening.
The main idea with the Solo Stove is to create an outdoor fire pit with less smoke since smoke is the biggest con with a wood-burning fireplace usually.
It measures 14 by 19.5 inches and weighs 20 pounds.
Lightweight and portable enough to take with you in the back of the truck or an RV on a camping trip.
The Solo Stove is becoming more and more popular because the idea works.
It creates lots of heat that rise, with less smoke, and is safe to place on any surface, like a wood patio or deck.
It's the best leave-no-trace fireplace I have ever seen.
It won't cook food for you unless you're good with some smores or hotdogs on a stick, but it will probably be the nicest-looking fire you've ever had at a campground.
Just don't expect the radiant heat you get from regular open fires.
What I Like
Innovative design
Large enough for logs
Less smoke than regular fire pits
Easy setup
Double walls to create lots of heat
Great air circulation ensures a complete burn
Made with 304 stainless steel
Lightweight and portable
Fire Pit Buyer's Guide
Size
What matters most when buying a fire pit is the size.
Not only because of how big you want it to be, but because of how much storage you have to store it in, or the size of the area you want to put it on.
The best way to find the right size is by measuring the area you want to put it on.
If you plan on traveling with it, in an RV or the back of your truck or car, make sure you understand how big the fire pit is when it's ready to be stored, so you won't be surprised by how large it is when you receive it.
Larger sizes often mean heavier weights, and if you're traveling with weight limitations, the weight might matter more than the measurements.
If you plan on backpacking with this fire pit, it needs to be small enough not to be a bother on the trail.
Grill
Most products I reviewed today are capable of grilling, with an often included grill grate.
But are you planning on using your pit for grilling?
If not, don't buy one with a grill grate, or leave it at home when you go camping.
There is no good reason to bring the gear you won't be using.
Patio/Deck friendly
Most fire pits are not safe for wooden decks or patios.
Make sure you choose a model that is intended for the kind of surface you plan on setting it on.
The last thing you want from a fire pit is a damaged deck due to heat from a fire, or even worse, a dangerous fire.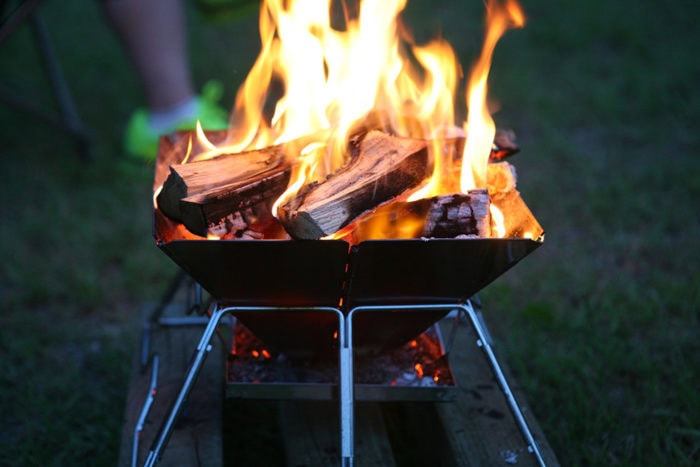 Frequently Asked Questions About Portable Fire Pits
Where is it safe to place a fire pit?
A wood-burning fire pit shouldn't be placed near anything that can catch fire.
This includes houses, neighbor yards, overhanging branches, fences, trailers, dry grass, trees, etc.
I see being near as being within ten feet of the fire pit.
Of course, it depends on the situation and place you're in, as sometimes the fire pit should be placed even further away than ten feet.
Will a fire pit keep mosquitoes away?
While mosquitoes don't like smoke, a fire pit won't help much with keeping a lot of mosquitoes away.
Gardentherapy.ca has written an article on what you can put in a fire pit to keep the mosquitoes away.
Can a fire pit go on a wooden deck?
If you want a fire pit to put on a deck, I recommend using a propane fire pit and not one that burns wood.
Sparks and embers fly out of fires, and if they land on your deck they can potentially start a fire.
It's better to be safe than sorry, and not place one on your deck.
Will aluminum melt in a fire pit?
Yes, a good fire will melt aluminum without issues.
As always, only have a fire when and where it's safe.
Don't burn things you're not supposed to, and make sure you kill the fire completely before leaving it.
Have any more questions about portable fire pits? Leave a comment below.