Sweden is a country that holds cozy close to its heart, and Christmas is a time when cozy is brought to life.
Some of my fondest Christmas memories are the ones I spent in Sweden.
All the traditions combine to create the most wonderful cozy Christmas feeling.
The decorations, the lights, the activities, and most importantly, the food all play a huge role in a Swedish Christmas.
Related Product: Did you know there are traditional advent lights that Scandinavians put in their windows every Christmas? Check out this classic option on Amazon
There's a lot of traditional Swedish Christmas food, and it's all fantastic, right down to the pickled herring.
My favorite is the treats that you eat all December long after a cold walk home from work or school.
You sit in your chair next to the glistening advent lights in the window, warm your toes on the sheepskin rug, and have a warm cup of glögg and delectable Lussekatter (saffron bun).
It's the perfect evening that keeps the Christmas spirit in your soul all month long.
Every year I so look forward to December, and as soon as it arrives, the baking begins!
I make all five of the traditional Swedish Christmas foods within the first week, then store them appropriately so I can enjoy them all month long.
Part of a cozy Christmas is sitting by the fire, check out my post on the best electric fireplaces by clicking here.
So, without any more delay, here are five traditional cozy Swedish Christmas recipes and why they are so dear to my heart.
1. Glögg
Glögg or Swedish Mulled Wine is a traditional Christmas drink every single Swedish person drinks during the holidays.
You can buy it anywhere, even homemade glögg at Christmas markets.
It is traditionally an alcoholic beverage, but even in Sweden, the non-alcoholic version has become very popular.
Whether you get the alcoholic version or not, you have to drink glögg warm with raisins and/or peeled almonds mixed in.
The flavors that come from all the spices and everything else make the most amazing heartwarming sweet drink for a cold winter evening.
You can make an alcoholic glögg from scratch at home using this recipe that is very close to what you can buy in the liquor store in Sweden.
See Also: 10 Warm Cozy Winter Drink Recipes for Kids and Adults
If you want to buy it, some stores sell it during Christmas like IKEA or online (click to view on Amazon).
You can mix alcohol into it or water if you want a non-alcoholic version for the entire family.
My husband never drinks the kind with alcohol in it, but he adds a ton of raisins.
No matter what you do, glögg is a Scandinavian treat that will surely become a holiday tradition in your own home, as long as you like the taste!
2. Lussekatter
Lussekatter or Swedish saffron buns are one of the most beloved traditions that are upheld in every Swedish household.
The sweet, warm bread with hints of saffron and raisins is the perfect combination.
Not only is the eating of Lussekatter a tradition but also making them is a family activity.
The dough is simple, but shaping each roll, coating them with egg, and putting the raisins in the right spot takes time.
There's a lot of discussion about where the name comes from and what it means.
Some say the name Lusse comes from Saint Lucia, and that is why they are eaten on St. Lucia's day on December 13.
Others say it comes from the name Lucifer and cats.
They were called "devil buns" in Germany because Lucifer and cats both have ties to the devil.
The curls in the buns do look a lot like cat's tails, and it's a fancy looking bread.
No matter where the name comes from, they are amazing and a must-do for any cozy holiday treat.
See Also: 10 Of The Coziest Soup Recipes For This Winter
Along with the many opinions about where the name comes from, there are also a lot of recipes for Lussekatter.
In Sweden, they have some ingredients that aren't common in America, but there are versions like this one that comes very close to the real thing.
If you want to try lussekatter, they start selling them frozen at IKEA in November every year, together with other Swedish treats and drinks like glögg, and the festive drink Julmust.
The saffron rolls from IKEA don't taste as much saffron as they should, but my husband loves them anyway.
3. Vörtbröd
Vörtbröd is a spiced bread that can be made with or without raisins and is found on the table during Christmas dinner or as a treat during the holidays.
It's eaten with butter and has a chewy yet tender consistency.
It's spiced with ginger, cloves, and cardamom. There is a malt flavor as well making a holiday bread like no other.
See Also: Best Freestanding Electric "Fake" Fireplace Heaters
Have it with dinner, coffee, or a cup of glögg.
It's a taste of Scandinavia and a good one to try if you are tired of extra sweet foods on Christmas and want something a little more savory and flavorful.
There are many ways to make vörtbröd, but this recipe is one that I like because it uses ingredients that are easy to find in America.
4. Marzipan Candies
Marzipan is a typical treat all over the world, but for some reason, it's not so easy to find marzipan candies in the USA.
In Europe, you can find marzipan in cakes and cookies, but my favorite is when they make them into Christmas candies.
In Sweden around December, the bakeries start to sell handmade marzipan in different Christmas forms.
Like snowmen, Santas, and for some reason, pigs. I loved going into the shops to see what they were making and buying a few for the walk home.
See Also: Best Heated Socks
Marzipan is expensive, so I started making my own.
My little creations may not be as fancy as the ones in the professional shops, but they sure are tasty.
I use this recipe as a base.
5. Crisp Gingerbread Cookies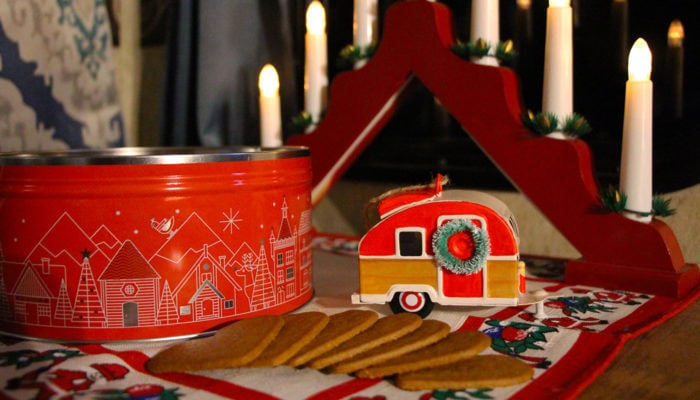 Gingerbread is a staple in any Christmas dessert arsenal, and Scandinavia is no different.
They love gingerbread in everything, just like Americans.
The only difference is instead of the thick, soft cookies; they mainly eat thin crisp gingerbread cookies.
You can buy them in large tins in the store and then take them home to pair with a hot cup of tea.
There's a strange tradition of putting this green moldy cheese that comes in a tube on the gingerbread cookies.
I was skeptical at first but once I tried it I never ate gingerbread without it.
I haven't been able to find the cheese in America but whenever I visit Sweden it's one of the first foods I buy.
See Also: Best Chocolate Chip Cookie Recipe Using Shortening
A very popular brand of Swedish gingerbread cookie is here in the US: Anna's (click to view on Amazon).
These are the absolute best gingerbread cookies I have ever had, and I am so happy you can buy them in grocery stores in America as well.
If you want to make them yourself, Martha Stewart has a fantastic recipe that I've used for years.
What is your favorite recipe that comes out every Christmas? Let me know in the comments down below!