Disclaimer: Wise Home sent me these LED lamps to test and review. This review is my honest opinion about the product.
How Can a Corner Lamp Make a Room Cozy?
Bright overhead lighting is out of the question if you want to make a room cozy and inviting.
Lamps and LED lights are the best way to add cozy lighting to a room and make it feel great to spend time in.
Related Product: Add some cozy lighting anywhere with an LED Bonsi Tree by Fuchsun (click to view on Amazon)
A corner LED lamp like the one in this review is a fast way to add some ambient light to dark corners.
They don't need to be glued or mounted to walls or furniture, and they don't take up hardly any space.
In this review, I'm going to show you how to use corner Wise Home LED lamps to make a room instantly more cozy or festive.
That's right, corner LED lamps can change color and even have light effects.
You can use them for a cozy night in, or to brighten up a room for a party.
Here's everything you need to know about the Home Wise LED Corner Lamp.
Add a little magic to any room by using an aurora galaxy star projector
Features
56 inches Tall
Gapless LED Strip (no sections, it's just one solid piece)
RGB Multicolored Lights
Wireless Remote Control
Solid Color Selections
Tons of Light Effects
Dimmable
Speed Adjustments for Light Effects
Quick Setup
Minimalist Design
What's in the Box?
Wise Home LED Lamp
Wireless Remote (Batteries Not Included, Requires 2 AAA)
2 amp AD/DC Power Adapter Plug
Wrench for Setup
Bolts
Foam Furniture Pads
User Manual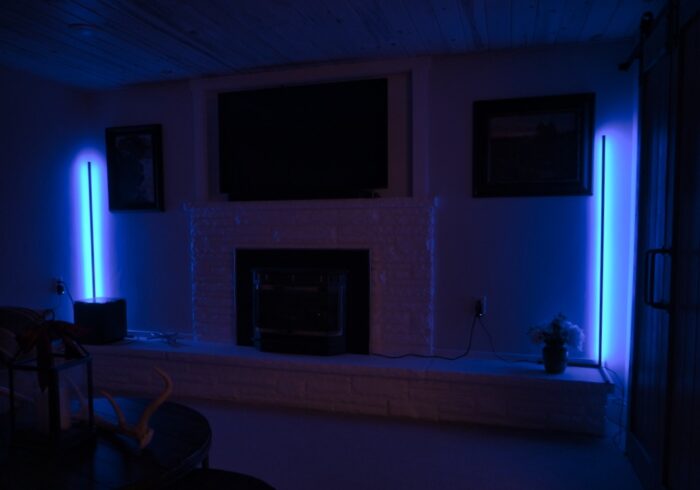 How to Use Wise Home LED Corner Lamps
The biggest thing to remember about ambient LED lighting like these corner lamps by Home Wise is that they are not meant to light a room.
If you need a bright white light, this will not be the best option.
What ambient LED lighting does is add some background light to areas or rooms that just need a bit of light or color.
You will often see ambient lighting in theaters or entertainment rooms.
Add some soft touches by placing real sheepskin rugs on the floor or furniture
You can also add ambient lights to rooms that have other kinds of stronger lighting, like hanging lights and lamps.
If you combine lots of different light sources like LED strips, hanging lamps, table lamps, and floor lamps, you will get a fantastic combination of lighting that's soft and inviting.
One common rule to follow when adding cozy lighting to a space is to use at least 7 light sources.
Setting Up Ambient Corner LED Lamps
There are a few kinds of corner LED lamps out there.
Some come with different sections of LED lights you put together, and others come as one solid piece.
The Home Wise lamp is just one solid piece. The benefit is you get gapless lighting that looks cleaner and more modern.
To set up a Home Wise LED corner lamp, all you have to do is secure the two legs using included bolts and Allen wrench.
Add soft firelight and warmth by using a freestanding fireplace heater
There are also some small self-adhesive foam pads included to put on the bottom of the legs to protect the floor.
The power cable has a 5.5 x 2.5 mm DC plug on the end that you connect to the included wall plug.
I like this little addition because it makes it easy to upgrade the AC/DC adapter wall plug.
The power cord is 6 1/2 feet long.
Once the legs are secure and the plug is connected, the corner LED lamp is ready to be placed anywhere you want.
Using the Remote
Home Wise sent me 3 corner LED lamps to try out. Which is good because I figured out a few things you should know when using multiple lamps.
The main thing is that even though each lamp came with a remote, one remote can control them all.
One remote for all can be a pro because you only need to have one remote out to use these lamps.
But it can also be a con because it's sometimes difficult to sync up all the lamps or make each lamp different.
I've found it to be more of a pro than a con because I spaced the lamps enough that I can just point the same remote at each lamp to turn them on and set them where I want individually.
One nice feature is that these lamps remember the last setting.
So if you prefer to use the same color every time, all you have to do is plug in or turn on the lamps and they will automatically turn the last color you chose.
White Light
This LED lamp can put out a white light. I know it is because it's white when you first plug it in and there's some white in some of the lighting effects.
The big question is, how do you get the Home Wise corner LED lamp to shine a solid white for regular lighting?
I've messed with the remote and tried to find some way to get a solid white light, but so far I've had no luck.
The only way I could get anything close to a white light was to work my way through the different light effects until I found one that had blinking white lights.
Then I used the pause effect button (the one directly to the right of the power button) to stop the lights from blinking.
The white light has gaps in it, but it's the closest I could get.
Have a cozy movie night with delicious homemade pizza cooked in a Vevor gas pizza oven
I don't think the white light problem isn't a deal breaker for me since I'm a cozy fanatic who never uses white light anywhere.
But for some, this could be an issue.
What you can get is a nice warm yellow light by using the color wheel on the remote, which I think is perfect for cozy ambient lighting.
Placement
Since these are corner LED lamps, the legs are angled so they line up perfectly in a corner and are out of the way.
But they don't have to be placed in a corner.
I've found that pointing the lamp directly at a wall looks pretty good. If you place the lamps behind furniture, the legs will be hidden anyway.
The closer to the wall the lamp is, the more concentrated the light will be. If you back the lamps up a few inches, the light shines out more but doesn't look as clear.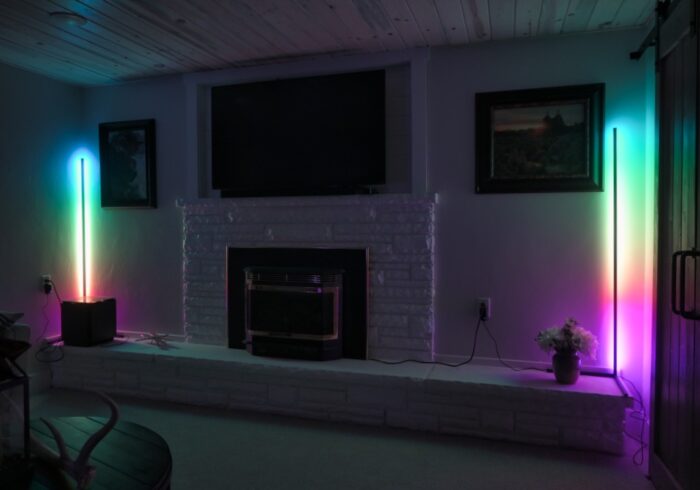 Home Wise LED Corner Lamp Review
What I Like
Solid Light Strip
Full Light with No Gaps
Remote Control
Color Wheel for Solid Color Selection
DC Connector Makes it Easy to Replace Wall Plug
Lamps Remember Last Setting
Super Energy Efficient (only uses 13 watts)
What I Don't Like
No White Light Option
Light Effect Selection is Random
Can't Customize Moving Light Effects
Overall Impression
I like the kind of light the Home Wise Corner LED Lamps put out. They really added a nice touch to the basement TV room.
Before, all I had for ambient lighting was an LED light on the back of the TV. Now there's a little more light to add more coziness, but not so much that I can't see the TV well.
The lamp is sturdier than it looks because it's one solid piece, and I don't see it wearing out anytime soon.
S'mores inside? Check out this mini indoor fire pit you can roast marshmallows over
I enjoy having a lot of color options, and the light effects can be fun sometimes.
There's even a green and red Christmas light effect I'm excited to use during the holidays.
This is a very simple style of LED lamp, but the quality is great and I would recommend these to anyone looking for low lighting for a TV room, bedroom, or even a dark hallway.
Leave a comment below if you have questions about the Home Wise LED Corner Lamp.