Why Dogs Love Cozy Cave Dog Beds
Dogs love being outside but when it's time to sleep they are instinctually drawn to enclosed areas like dens and caves.
Being covered makes them feel safer and more comfortable when sleeping.
Some people use dog crates to create the den feel but there is another option that has recently hit the shelves that doesn't require a large crate or carrier in your home.
See Also: Best Giant Cozy Chunky Knit Blankets Review
Cozy cave dog beds are the best of both worlds. They're both a warm and comfy bed and a place they can snuggle up in for a sense of security.
If you often find your dog hiding under blankets or burrowing into the couch then they will love a dog bed that has a built in cover like a cave dog bed.
Note: Scroll left/right on small screens to view all products in the table.
Best Cozy Cave Dog Bed Reviews
The Snoozer cozy cave pet bed is one of the originators of the concept and one of the best options on the market today.
The style is a large padded base with a warm and cozy blanket that covers about 3/4ths of it.
It's enough "cave" for your dog to snuggle up in and enough of an opening for them to comfortably keep their head out if they want.
The fabric used is soft and warm microsuede with a cozy sherpa lining.
The filling is soft and durable polyester fiberfill.
There are tons of different color and pattern options and 3 size options.
See Also: Best Freestanding Electric "Fake" Fireplace Heaters
The small size is for smaller dogs like Yorkshires and Daschunds.
The large size is for medium sized dogs like Bulldogs, and Collies. The extra-large size will fit larger dogs like Golden Retrievers and even Dobermans.
Currently, there is no size option for huge dogs like Great Danes and St. Bernards.
The cover is removable and machine washable.
The Snoozer Cozy Cave Pet Bed has a fantastic design that's made to last.
The extra padded bed part is a nice touch and the "cave" is the perfect size for your dog to curl up in without feeling trapped.
What I Like
Lot's Of Padding
Sherpa Lining
Removable Machine Washable Cover
Can Be Used As Cave Or Regular Dog Bed
---
The Best Friends hooded dog bed uses the same concept as the Snoozer reviewed above but instead of a full padded base, the center is lower to make more of a nest shape.
The cave part is a sewn-in blanket that covers about half of the base. It's loose so your dog can lay on top of it comfortably or snuggle up underneath it.
The fabric used is faux fur polyester with a sherpa lining inside.
The padding is polyester fiberfill.
There are two size options. Small which is for dogs up to 25 lbs and medium for dogs up to 35 lbs.
See Also: Best Bean Bag Chairs For Adults
There is currently no large dog option.
There are a few different color options to choose from and some have a different kind of outer fabric that's not as fuzzy as the faux fur options.
No matter what fabric and color option you choose the covers are removable and machine washable.
The Best Friends Hooded Dog Bed has a good design that offers better head support for your dog but it might be harder for them to understand that they can curl up underneath the cave part.
The lower center part also means there's less padding in the middle which means it might not stay comfortable as long as a fully padded dog cave bed.
What I Like
Can Be Cave Or Regular Dog Bed
Sherpa Lining
Ergonomic Design
Lots Of Space Underneath The Hood
---
The Spot is the most cave looking of all the cozy cave dog beds in this review.
It's more structured so it holds a cave shape even when your dog isn't in it. This is a good option to introduce your pet to the world of dog caves.
The fabric used is an ultra soft suede with a polyester fiberfill.
The shape is sort of a triangle with a large opening that gets smaller on the inside.
See Also: Best Inflatable Hot Tubs Reviewed (Summer, Winter Use)
The cover is not removable but the entire thing is still machine washable.
The size is the only main downside to this cozy cave dog bed.
It's for small dogs only measuring just 22 inches long, 17 inches at the widest part, and 10 inches at the tallest part.
I wish they had more size options but they do have a few different colors to choose from.
The Spot Cozy Cave Dog Bed is perfect for small dogs who like to be able to hide.
This could be used in a larger carrier to give them more security and it's a great way to introduce your pet to cave beds.
What I Like
Holds Its Shape
Super Warm & Padded
Ultra Soft Polyester Suede Fabric Used
---
The Amazon Basics cozy pet cave is a fantastic option if you aren't sure your dog or cat will appreciate a cave bed.
The hood or cave part covers half of the round bed base and it's removable.
If your pet doesn't like it, you can take it off and they have a regular round bed they can still be comfortable on.
The fabric used is soft microfiber with a sherpa lining.
The padding is extra thick polyester fiberfill.
See Also: Best Faux Sheepskin Rugs + Frequently Asked Questions
The cover and hood are both removable and machine washable.
There are 4 size options ranging from as small as 25 inches in diameter to 45 inches in diameter.
The Amazon Basics Cozy Pet Cave Bed is a very versatile option for pets that have never used a cave bed.
If they don't like the cave part just take it off. It's simple and a fantastic dog bed even without the hood.
What I Like
Lots Of Size Options
Removable Hood
Extra Padded Base
Warm & Soft Microfiber Fabric
Removable & Machine Washable Cover
---
The Birdsong cuddle pouch dog cave is another dog bed that holds the cave shape even when your pet isn't in it.
It has extra thick padding on the base and sides which means it's super warm.
The fabric used is soft and fuzzy polyester with a polyester fiberfill.
It's machine washable but the cover is not removable which means if you get the large size option you will need a bigger machine to wash it in.
See Also: The Most Comfortable & Best Convertible Sofa Beds
There are three size options that range from small for dog breeds up to 15 lbs, medium for dogs up to 25 lbs, and large for dogs up to 50 lbs.
There are also other color options.
The Birdsong Cuddle Pouch Dog Cave is another fantastic choice for dogs that aren't used to cave style beds.
It holds its shape so they will know how to cuddle up inside of it. It's also super warm which is extra nice for short haired dog breeds that get cold in the winter.
What I Like
Mulitple Size Options
Holds The Cave Shape
Extra Padded Base & Walls
Super Warm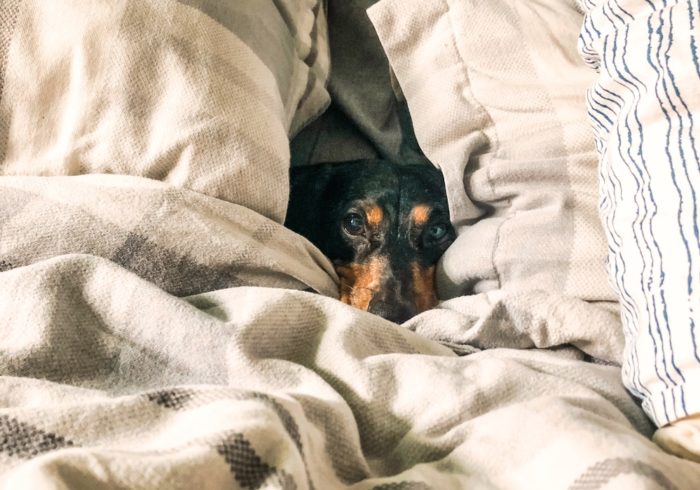 What To Look For In A Cozy Cave Dog Bed
High Quality Padding
The concept behind cozy cave dog beds is really cool but they need to be comfortable for your dog as well.
Most companies use polyester fiberfill for dog beds because it can keep its shape for a long time, is comfortable, and is durable.
lt also doesn't hold odors as easily as other common paddings like memory foam.
The Right Size
You want to get a dog cave that's big enough to hold your dog but also be small enough to snuggle up and feel secure in.
Most companies that made cozy cave dog beds have size guides for different breeds of dogs.
If there isn't a size guide you may have to measure the bed your dog currently has and compare it with the size of the cave dog bed.
Machine Washable
Any pet product company that knows what they're doing will make dog beds that have a removable cover that can be washed in a washing machine.
Dog caves love to pick up hair and they will possibly need to be washed more often than a regular dog bed.
All of the cozy cave dog beds in this review are machine washable.
My Pick For The Most Cozy Cave Dog Bed
The Snoozer is just an amazing dog bed overall.
The extra padded base means it's not only going to be extra comfortable for even larger dogs, but it's also going to last longer.
I like that the hood covers more of the base than other similar cave style dog beds and the cozy sherpa lining is really nice.
The cover is also removable and machine washable which means no matter what size you get you will be able to wash it in a standard sized washing machine.
They also make one of the few size options for larger dogs.
Have any questions about cozy cave dog beds? Leave a comment below.